Driving instructors in Towcester
Get on the road with lessons from a recommended instructor Learn to pass your driving test 1st time. Driving Lessons and Intensive courses with a very high pass rate. Driving Lessons Milton Keynes, Northampton ,Leighton Buzzard and Buckingham save £60 on first ten lessons Further Discounts for block bookings Guaranteed 1st time Pass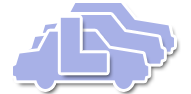 Learn to drive at Mov School of Motoring – MSM or Mirror Signal Manoeuvre, the most important car control routine, steering you, as well as all other road users, towards Safe Driving for Life My ...




Find a driving instructor in and around Towcester