Driving instructors in Dinas I am a grade 5 instructor with around 12 years of teaching experience I did my training with BSM and worked for them for around 7 years before leaving and starting my own business I cover mostly the ... Learner Driver Training and Driving Instructor Training in Barry and The Vale of Glamorgan. 15 years experience, modern, air conditioned Tuition Vehicle. Special Offers and Block Booking Discounts ...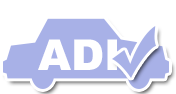 Find a driving instructor in and around Dinas