Driving instructors in Cranbrook Our driving school has been helping new drivers pass their test in Marden, Staplehurst and Maidstone for a number of years. Displaying both sensitivity and patience, we prepare our candidates for the ...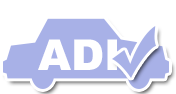 Jody Thomas Driving School, ex-Bsm and AA instructor, grade 6 qualified (the highest level of tuition) with great pass rates. Friendly and fun tuition geared towards getting you your licence as ...


Find a driving instructor in and around Cranbrook