Driving instructors in Coleshill Easy L Driver is part of Johns Driving School based in the high wycombe area we are a family run business with over 30 years experience in driving. Both Tony & John are high grade 6 instructors & ...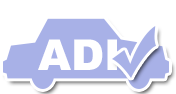 Fully Qualified Approved Driving Instructor Driving lessons structured to pupils needs Preparation for both the Theory and Practical Tests Free course handouts - learn faster by learning between ...


Find a driving instructor in and around Coleshill